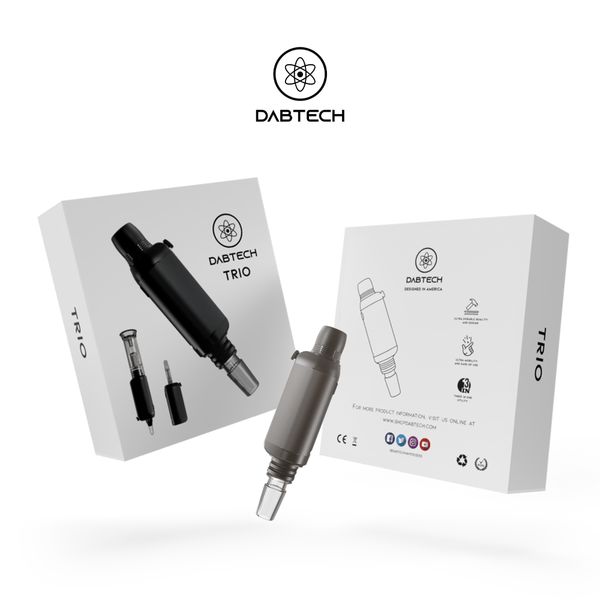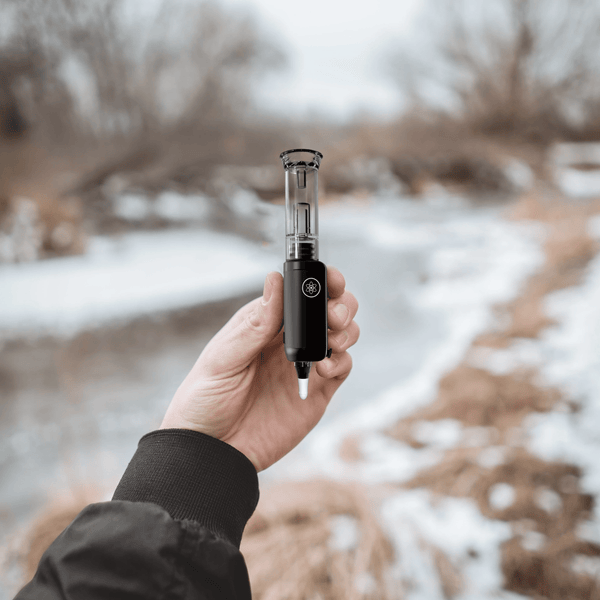 Return & Refund Policy
DabTech offers a 1-year warranty on all our products. The warranty on the Dabtech Duvo covers the battery, charger, and all electrical components for one year. The glass, buckets and atomizers are not covered under the same warranty. If you have a warranty issue, email us and we will assess your case.
The Perfect E-Pen
You can use the DabTech's Trio as a battery for any 510 threaded cartridges for any of your favorite branded concentrates
Torch-less Dabbing
Use the Trio as an E-Nail for any of your glass including bongs, for the perfect tasting dabs with precise and fast heating
Direct Wax Dabs
For those looking to enjoy dabbing your wax directly, simply attach the dab straw with it's water filtration for the smoothest experience
1-Year American Warranty
Our 1-Year American warranty comes standard in all our products including the Trio, but feel free to reach out with any issues and our support team will help!
Giving "Bong Dabs" a New Meaning
While the DabTech Trio works on any glass, including traditional rigs, it also works great for those who only have bongs and wish to enjoy dabbing their preferred concentrates. Simply attach the 14mm male piece to the female joint of the bong, insert your wax into the trio, then dab away.
Your Cartridge's New Best Friend
Concentrate cartridges have taken our industry by storm, so it was a no brainer for the product team here at DabTech to provide our customers with the option to use the Trio for any 510 threaded cartridge they prefer using. With its 3 heating presets and manual mode, the Trio will become your preferred cartridge battery.
Electric Nectar Collector
For those looking to enjoy their cartridges straight out of their containers, you can convert your Trio into an e-nectar collector. No torch needed, portable for any occasion, and super fast heat up time, this nectar collector is an essential tool for any dabbing connoisseur. The best part is the Trio's water filtration bubbler which is spill-proof, that provides an even smoother dab.
I'm so glad we figured it out and I finally got it and I love it
Yabba Dabba do it
We've been vibing hard with the DabTech Trio. This little gem? Total game-changer. We're all about that on-the-go life, and the Trio's portability is just next level. Whether we're chilling at a friend's pad or taking a nature break, it's our go-to sidekick. Convenience? Check. Smooth hits? Double check. It's like having a pocket-sized party ready to roll whenever the mood strikes. Big love to DabTech for crafting such a rad device. Keep elevating the game!
Stay lifted and keep those good vibes rolling,
Cannabis School Crew 🌿🎙️🤙
Heating Tip Could last longer
I love my trip, worked as advertise, but the heating tip that came with the unit lasted 26 days maybe had 30 draw and replacement are kind of expensive a $23 a pop plus shipping for 31/2 week of usage? Other than that. It's a great unit. I'm currently using it with a 510 cartridge, I like that I can adjust the temperature for a more pleasant experience.
Handy as can be
I've got the core and now the trio does everything the core can't do so it's a match made in heaven
Awesome
This is your one stop ultimate dabbing device. Love it
Works as Advertised
I am pretty new to dabbing, as I have only done it three times, with my neighbor. He has a big glass 'rig' and the process of dabbing concentrates seemed so difficult (using a torch to heat the glass, waiting a certain amount of time and then doing the dab). I got really stoned, but didn't want to deal with all that. I bought the Dabtech Trio and I can now dab with the best of them. I have only used it as a 'straw', but that does the trick and it's very easy. I do recommend this for that reason.
More versatile battery ever!
I've had multiple portable smoking products over the years including Puffcos and Focus Vs. This is by the far the most versatile rig I've ever come across. I've used it to vape my carts on the road. The nectar collector function was perfect for dabbing and camping. While at home I have it hooked to my dab bong and it delivers great, cloudy hits. I recommend this product to everyone! Totally worth the price!
Supreme value
I was researching something else when I came upon a review on this product by Erick Khan. His review was an honest and fair review so I said why not and try this out. Let me tell you this is a great product. Buttons and components have a feel of quality. The trio executed all functions flawlessly. Highly recommend this product, it is outstanding
Love this piece!
It's soo versatile and you get a good hit any way you use it
Trio is amazing
Love the trio great bang for your buck thanks dabtech