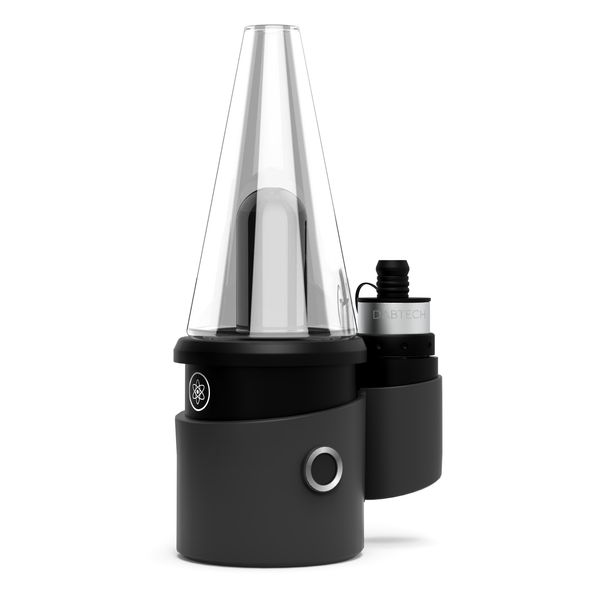 DabTech Duvo X
The DabTech Duvo X is a high-performance vaporizer designed to provide an exceptional dabbing experience. This device features a powerful 1500 mAh battery, allowing for long sessions without the need for constant recharging. The Duvo X is also equipped with a four preset heating system that delivers consistent, efficient heat to your concentrates, producing thick, flavorful vapor with every use.

One of the standout features of the Duvo X is its Industry-First 3D rebuildable atomizer that burns all over it's ceramic dish to guarantee you burn the whole dab instead of wasting it with build up on the sides. It's also rebuildable so in case you have any issues you can simply replace it instead of purchasing a brand new rig. 
DabTech Trio
The DabTech Trio is a compact and versatile vaporizer that comes with 3 different utilities - Nectar Collector, 510 Cartridges Battery, & E-Nail for Bongs. Just connect it to the joint of any glass-on-glass water piece, activate it and wait five seconds. No need to worry about a torch or an exposed nail. Just remove the cap from the tank, place the dab into the ceramic bowl, replace the cap and enjoy!
The device's sleek and portable design makes it easy to take with you wherever you go, and its straightforward controls ensure a hassle-free experience every time. Whether you're a seasoned vaporizer user or new to the game, the DabTech Trio is an excellent choice that offers exceptional performance and convenience at an affordable price.

Return & Refund Policy
DabTech offers a 1-year warranty on all our products. The warranty on the Dabtech Duvo covers the battery, charger, and all electrical components for one year. The glass, buckets and atomizers are not covered under the same warranty. If you have a warranty issue, email us and we will assess your case.
Worth every penny!
Hits great, easy to use and clean, cant beat the price.. definitely would recommend to friends
Good hits
Easy to use. Sessions are real good. Definitely recommended
What a great buy!
I had a Peak that died on me and was looking for something to fill the gap. I stumbled across the buy 2 for a low price, get free shipping and then get a nice discount on top of all that!? I got the Duvo and trio for a great price and we have been dabbing up all kinds of fun stuff. They BOTH work great. One for home, one for the road. Thanks Dabtech! Great product for a great price and man these things rip!
Love love love!!!!!!
I love the Duvo x! So easy to use and clean. Hits like a champ! The Trio is awesome too great for on the go!